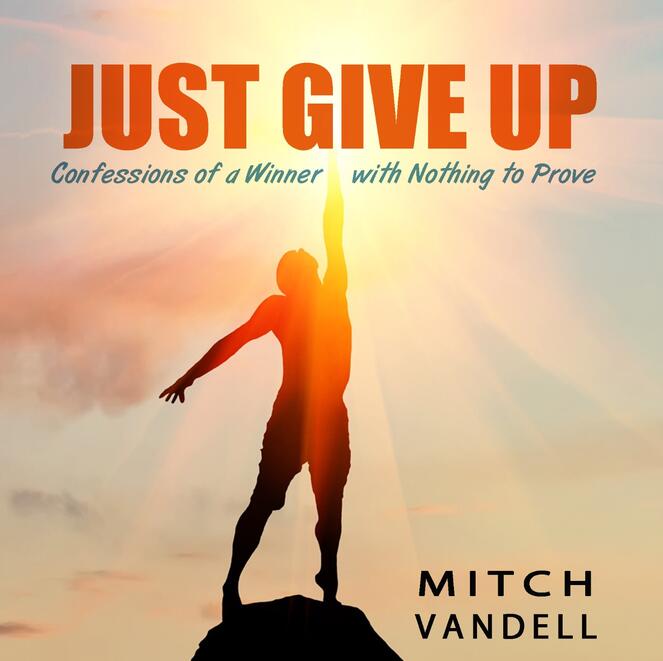 In a series of short stories, author Mitch Vandell reflects on having reached middle age with absolutely nothing to show for it. Yet, his life can only be described as one single, long and constant climax.

What's his secret?


DARING to fail, and failing
– is the new WINNING!
Let go of self-doubt and fear of judgment.
Free yourself to do what you like.
Stop resisting
Just give up and be yourself
– a WINNER!
Press Release: Millennials told 'Giving Up' is their Best Chance at Success in Life
"Just Give Up: Confessions of a Winner with Nothing to Prove" is the new audiobook by author Mitch Vandell that takes an entirely new approach to achieving success.

Described as radical stoicism, rejecting to measure oneself against others, "Just Give Up" is available as an audiobook on iTunes and Audible. It's also available on Amazon in a paperback and Kindle edition.

The book is the outgrowth of Vandell's experiences as an author. Vandell attended prestigious private schools and graduated with dual Master's degrees but could never hold any job beyond the notice period. Having reached middle age he has absolutely nothing to show for it. His main accomplishment is not sabotaging his life any more than he has.

His 80-year-old mother's advice helped place things in perspective: "You could have turned out like your father, paying child support to a stripper." It inspired him to become a motivational speaker, teaching philosophies from his failed self-help book about achieving career success. Vandell's countless mega-flops and fiascos proved to be the most motivational for participants. The unintended result was people reevaluating their relationship with failure, achieving more by no longer being held back, and giving their best by doing what they wanted.

In his seminars, Vandell fondly recollects devoting three years to composing and recording a rock symphony with a live orchestra and later staging live performances on three continents. Despite spending a fortune and even producing a video to go with the symphony, only 65 tickets were sold and 42 people watched the video online. And this is precisely the point, argues Vandell. "Trying to prove yourself by having a certain degree of success is a distraction. High achievers push their limits and are, therefore, rarely satisfied, no matter what they accomplish. The only ones even taking notice of your achievements are those less successful than you. Are they really who you want to impress?" asks Vandell.

"Not focusing on how you think people see you frees you to do what you like and find out who you are," said Vandell. "Daring to fail is the new winning – doing what you want without fear of how you think people will judge you – even if it means getting a stripper in Brazil pregnant. Ultimately, happiness can only come from acceptance. Stop resisting. Just give up and be yourself – a winner!"

The release of Vandell's new book, "Just Give Up: Confessions of a Winner with Nothing to Prove," (ISBN 1974277232) is a study in self-acceptance. It challenges conventional thinking about failure, success, and demonstrates how comparisons to others impair an individual's own journey to fulfilling their potential.
[ENDS]

About Mitch Vandell
Based in Dubai, Vandell uses satire to present counterintuitive ideas that challenge conventional thinking. He's a prolific author who has been featured in print and broadcast media, including Forbes and Bloomberg.

Media Contact
Mitch Vandell
Phone: +971 50 885 7810
Email: press@JustGiveUp.xyz
Website: www.JustGiveUp.xyz